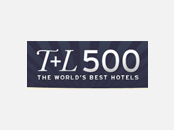 Blancaneaux Lodge and Turtle Inn were once again recognized in Travel + Leisure's annual list of the World's 500 Best Hotels. The two Francis Ford Coppola-owned retreats were the only resorts in Belize to make the list, and Blancaneaux Lodge was also named the Best in Region, encompassing all of Latin America.
Blancaneaux Lodge made the list for the 5th consecutive year, while Turtle Inn was recognized for the 4th time in the past five years (2007-08, 2010-11).
Congratulations to the hardworking and dedicated staff at both resorts for this wonderful recognition!