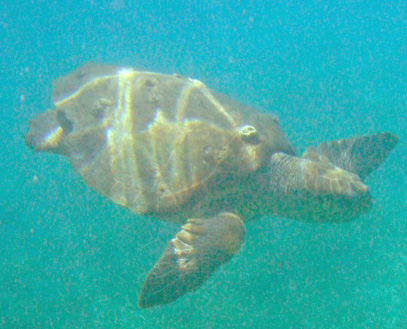 Khristina Bonham, a Conservation and Biodiversity Masters student at the University of Exeter, has been working with ECOMAR Belize on the newly formed Turtle Watch Program. Last month she visited Turtle Inn, and for six days gave informative presentations to the guests, conducted water surveys for sea turtles and trained at our dive shop on how to report sightings in the future. Below are the journal entries from her stay.
Sea Turtle Research in Belize
Belize is a beautiful country with a wealth of biodiversity. From its turquoise waters to its wild jungles, Belize is teaming with natural wonders. It also is the host of the largest barrier reef in the Western Hemisphere, and the second largest in the world. Every year thousands of tourists flock to enjoy this lovely place. Belize is also home to a number of sea turtle species. Most common are the hawksbill sea turtles, loggerhead sea turtles, and green sea turtles. Rare visitors include the leatherback sea turtle and olive ridley sea turtle. All of these turtles are categorized by the International Union for Conservation of Nature (IUCN) as vulnerable, endangered, or critically endangered, meaning they are in desperate need of conservation.
Sea turtles nest on over thirty cayes and mainland areas throughout the country. The largest density of sea turtle nesting occurs on Manatee Bar Beach with approximately 100-150 nests a year. In addition to this, sea turtles use Belize's coastal waters for feeding and breeding. The Belize Fisheries Department as well as some NGOs have conducted a few in water surveys a year, but in-water monitoring of sea turtles can be costly and difficult.
The Belize Turtle Watch Program
The Belize Turtle Watch Program aims to use recreational diver data to get a clearer idea of marine turtle abundance throughout the country and establish baseline population levels which can then be monitored for change. While conducting research for my thesis I am helping Ecomar to launch this program throughout the country. The first step involves me training Belize's participating dive organizations on how to collect data. Then dive organizations will continue to report data throughout the year. From this information, we can soon determine sea turtle abundance and locations.
Turtle Inn
Turtle Inn is a great supporter of scientific research and has offered to help me conduct research in the southern part of the country. Turtle Inn conducts approximately eight dives a week. Every dive, clients and dive masters will report whether they saw a turtle at a site or not. This leads to approximately thirty-two data points a month and over 380 data points a year!! With this information we can determine where sea turtles are in Belize, what species are present, and what ages are common. With this information, conservation efforts can be more effective and populations can be monitored to see if new laws and regulations are necessary.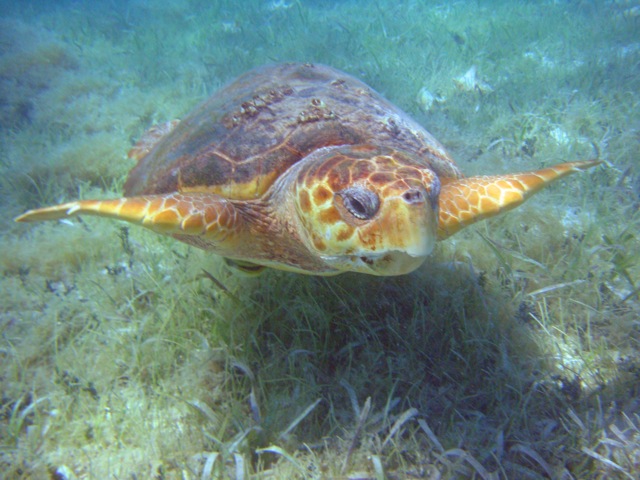 Day 1 (March 19th):
Today I arrived at the Tides Dive Shop at Turtle Inn and was introduced to dive shop manager Arthur Westby. Arthur is a Placencia local and seems to know everyone in town. Just as well as he knows the people of his home town, he also knows the local waters. Arthur has worked as a naturalist and has helped with whale shark research. He has been on more than 7000 dives and is the perfect guide for me during my stay in Placencia!
Today there are two groups leaving Turtle Inn to explore the waters. One is a snorkeling group heading out to Laughing Bird Caye National Park and the second is a dive group going to "Dog Snapper" and "Spotted Drum." The weather is a bit rough today but the guests are still eager to get out. Before the boat leaves the dock, I give a bit of an introduction to my project and explain how to identify the different species of turtles. The guests are eager to help and be part of conservation research.
The tours head out, battling winds and waves to arrive at their dive and snorkel sites. I am unable to go out today but meet up with the group upon their arrival. Unfortunately, today they did not see any turtles. I let them know that is ok, actually recording non-sightings is just as important as recording sightings. This is because without the non-sightings I cannot determine the proportion of turtle sightings per outing. Allie Tillinghast, a 10 year old guest at Turtle Inn and one of the snorkelers of the day, asks if she can have a turtle reporting form to show her science teacher and class when she returns to school. I think it is great that someone so young can begin to participate in conservation!
Day 2 and 3 (March 20th and 21st):
I am thwarted by the weather! It's very windy and rainy at night here at Turtle Inn and too rough to go out on the boats. Crossing my fingers that tomorrow will be clear!
I was able to make use of my time on dry land and on Monday night gave a presentation to the guests of the hotel. I gave them a summary of my project and why it is so important to conserve sea turtles. It was wonderful to see people who were very interested in learning about how to help! I hope these guests will get to go out on the water soon and report some turtle sightings!

Day 4 (March 22nd):
Today the weather has improved and I start the day by explaining the Turtle Watch Program to two snorkelers and two divers that are heading out to Laughing Bird Caye. Laughing Bird Caye is a National Park here in Belize. This means that it is a protected area with the rule "Take only pictures, leave only footprints." When we arrive on the small island we are briefed by a SEA (Southern Environmental Association) representative who gives us instructions on how to protect the environment while at Laughing Bird. SEA also monitored sea turtle nests in the area.
The divers leave on the boat to dive an area called "Tug Wreck" and I go with the snorkelers to the snorkeling entry. There is only two snorkel entry points on the island. This is to protect the reef that can easily be damaged, even by people walking out into the water to go for a snorkel. I use a GPS to mark the latitude and longitude of the island. Once we collect some data on turtle sightings, I will be able to use a program called GIS to make a visual representation of the turtle sightings. We didn't see any turtles on the first snorkel. After lunch, I head out with the divers to "Coral Garden." Again no turtles, but I hope I have better luck tomorrow.
Day 5 (March 23rd):
The weather is calm today and we were able to head out to the Silk Cayes. The Silk Cayes are located approximately 21 miles from Turtle Inn, but we have a nice smooth ride today. Turtle Inn's dive guides tell me they often see turtles at the Silk Cayes and I'm excited to see what I find. Two dives and a couple of snorkels finally lead us to our first turtle sightings at the aptly named "Turtle Reef." We get to see two loggerhead sea turtles. Loggerheads are easily recognized by their disproportionably large head. The first turtle we see is possibly a juvenile, with a shell approximately 30 inches long. A second larger loggerhead is also seen. This one is probably a female at approximately 3 feet, or one meter. In adult sea turtles we can distinguish males from female because males have a much larger tail. This second turtle was adult sized with a very short tail. I take pictures of both turtles. This will help us identify the turtles in Belize by distinctive shells, barnacles and facial scutes. A scute is the word of a scale on a sea turtle. Today was definitely a success!
Day 6 (March 24th):
Today is my last day going out with Turtle Inn's dive shop before I move on. I am excited to head out to the Silk Cayes again today. I want to see if I see the same turtles again or if we spot any more in this area. The dive and snorkel guides tell me that the turtles come to this particular spot because fishermen use to clean there catch here. Again we see two loggerhead turtles. One turtle is the same juvenile we saw the day before. The other may have been the same but I didn't see it myself and nobody got a picture of it.
Before I leave Turtle Inn I train the staff of Tides Dive Shop to continue to report turtle sightings. They will continue to collect data on turtle sightings and email the results to me. I hope to come back to Turtle Inn soon and have the chance to see more dive sites and work again with Turtle Inn's knowledgeable dive staff!
Summary of the data from this week:
There were nine dives and no turtles sighted on any dives.
There were fifteen snorkels and four turtle sightings, but possibly only two turtles.
There was also one turtle seen from the boat.
Sites were visited in the areas of Laughing Bird Caye and the Silk Cayes.
Pictures were taken of two turtles for identification purposes. One is an approximately 1 meter adult female loggerhead sea turtle. The other is an approximately 76 cm juvenile/subadult loggerhead sea turtle.