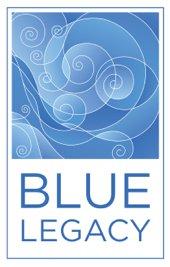 Francis Ford Coppola's famed resorts in Belize, Blancaneaux Lodge and Turtle Inn, announced today that they have formalized a partnership with Alexandra Cousteau's Blue Legacy, an environmental foundation that works to engage mainstream audiences on global water issues. Cousteau, the granddaughter of renowned environmentalist Jacques Yves-Cousteau, will travel to Belize in spring 2012 in order to explore and film critical environmental issues for a worldwide audience.
Committed and dedicated to fostering best practices in ecotourism and sustainable travel, the Coppola Resorts will host the Blue Legacy group during their stay in Belize. By leveraging Coppola Resorts' valuable relationships with the area's conservation partners and key influencers, Blue Legacy will gain a special insight into the management of Belize's protected areas and will seek out views from a wide range of community stakeholders.
The tentatively titled "Expedition Blue Planet: Belize" will explore three areas of the country in order to illustrate how ecosystems and communities depend on natural water systems and how changes in land use practices affect both freshwater and marine environments.
"We are thrilled to welcome Alexandra Cousteau and Blue Legacy to Belize this spring and guide them on their journey," said Neil Rogers, a leading sustainable tourism expert and Coppola Resorts' Director of Marketing. Adding, "Coppola Resorts is dedicated to practicing sustainability in our resorts, and this partnership further accentuates our commitment."
Alexandra Cousteau and Blue Legacy will travel to Belize in spring 2012 with a group of explorers, researchers and filmmakers to document their expeditions around the country. With interviews ranging from prominent experts and key scientists to local residents and community leaders, Blue Legacy will generate a variety of film and interactive features to engage global audiences on the topics explored during the expedition in Belize and their connections with similar challenges and opportunities throughout the world.
"Blue Legacy is looking forward to visiting Belize this coming Spring as we believe the country has a unique local color and demonstrates critical global themes," says Alexandra Cousteau, founder of Blue Legacy. "In Belize, we will explore species that depend on the ridge [inland areas], coastal communities and the reef systems while also discussing how these three critical features are connected through natural water systems. We are thankful to have the opportunity to partner with Coppola Resorts as we explore the country their famed resorts reside in."
The Coppola Resorts in Belize are currently undertaking an array of sustainability initiatives. In June, the two Coppola Resorts joined the Sustainable Tourism Program led by the Rainforest Alliance, the international nonprofit conservation organization dedicated to helping businesses develop and implement practices spanning sustainable forestry, agriculture, tourism, climate and education. They have also joined forces with one of the early leaders in the sustainable travel movement, Sustainable Travel International's global Sustainable Tourism Eco-Certification Program (STEP), which represents the gold standard for companies striving to be environmentally innovative and socially responsible.
Turtle Inn and Blancaneaux Lodge recently implemented a stainless steel bottle program aimed at reducing plastic water bottle consumption by guests. Additional environmental efforts include the hydroelectric plant that the Coppolas installed in 1993 which harnesses the energy of Privassion Creek that runs through Blancaneaux Lodge, supplying the property with some renewable power. Excess energy that is generated is used to heat the hot pool at the Waterfall Spa. New recycling procedures, ongoing wildlife research and improved environmental community outreach programs all contribute to the sustainability of the Coppola Resorts and the planet. Both properties feature expansive organic gardens that supply fresh produce used in the on-site restaurants, reducing their carbon footprint by using locally sourced ingredients.
About Blue Legacy
Blue Legacy was founded in 2008, by explorer and filmmaker Alexandra Cousteau and "dot-com" entrepreneur Jonathan Smith. The Washington, DC-based organization is a non-profit project of The Ocean Foundation and is dedicated to helping people understand and value their everyday relationship with water. Blue Legacy produces visual and interactive storytelling inspired by expeditions around the globe to engage people in critical conversations about the health, quality and quantity of our water resources with a focus on restoring natural water systems, preserving fragile water treasures and empowering everyday people to change our water future one community at a time.
About Francis Ford Coppola Resorts
The Coppola Resorts are a collection of unique award-winning properties where stylish and eco-friendly exploration and discovery meets serenity and delight. Drawing upon inspiration from his film career and travels to the far reaching corners of the world, each resort is an ideal destination known for the intuitive nature of the friendly staff to the allure of exploring the natural wonders of the area while relaxing in tranquil surroundings. Francis puts it best saying, "There are things to do – or just do nothing." The Coppola Resorts offer a glimpse into the values that Francis holds dear – family, fun, adventure, and great food and wine. These elements can be seen throughout each property, weaved into the landscape, creating a personal Coppola connection for all to enjoy. The Coppola Resort properties at Blancaneaux Lodge and Turtle Inn have been listed as the "Best Resorts in Central + South America" by Travel + Leisure magazine, as well as many other travel authorities.