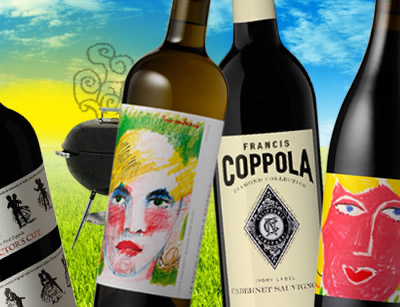 With Memorial Day around the corner and May being National Barbecue Month, grilling season is definitely underway. As we get ready to spend more time outdoors around the BBQ, we asked Lise Asimont, Director of Grower Relations and our in-house wine & food afficionado, to share a few fun grilling ideas to pair with some of our BBQ-friendly wines. We hope you enjoy!
Francis Coppola Reserve Viognier
This wine is so uninhibited with its fruit and acidity - very fragrant and pretty. It is perfect with grilled shellfish, grilled fish and veggies.

Tequila Shrimp: Marinate 1 1/2 lbs. of shrimp (31/40 size count) in 3/4 cup tequila, garlic, onion and cumin. Skewer 4-5 per stick and grill on medium-high heat. Finish with a pinch of salt and lemon wedges.

Grilled Corn: Grill corn in husks with silk trimmed on medium heat. Serve with butter, hot chili powder, salt and lime wedges.

Francis Coppola Reserve Pinot Noir
This Pinot Noir has a great structure and can handle stronger flavors. Perfect with grilled chicken thighs, pork loin and mushrooms.

Red Thighs: Marinate chicken thighs in chipotle pepper purée (if you don't like the heat, try sun dried tomato purée and mild chili powder), garlic, onions, salt, pepper, EVOO and sweet pepper halves. Grill chicken thighs and sweet pepper thighs on medium heat and serve with a couscous or rice pilaf.

Red Caps: Use same technique as Red Thighs but substitute chicken for whole portobello mushroom caps with the stem removed.


Diamond Cabernet Sauvignon
The intense cherry berry character of this wine makes it a perfect grill accompaniment.

Cab Sauv Tri-tip: Place a well trimmed tri-tip (with a little fat still left on) in a marinade of Diamond Collection Cabernet Sauvignon (about 1/2 bottle per tri-tip), garlic, onions, salt, pepper, EVOO and sweet red pepper halves. Grill the whole tri-tip on low to medium-low heat, preferably off direct heat, until you reach desired finish. This is called "low and slow." Grill the pepper halves with the meat, or the last 10 minutes. Serve with corn tortillas and your favorite red salsa.

Roasted Red Pepper Couscous: Follow tri-tip marinade directions with sweet red peppers only. Grill peppers on medium heat and serve with Israeli couscous, chopped cilantro, chopped red onions, EVOO, lemon juice and a generous crumble of Greek feta cheese.

Director's Cut Zinfandel
This is the most forgiving of wines when it comes to spice. The bramble berry can handle lots of heat.

Coffee Crusted Rack of Lamb: Create a rub of ground French Roast, onion powder, garlic powder, chile ancho powder, chipotle chile powder and salt and pepper. Rub rack of lamb well and then make a thick paste of the rub and coat the fat side of the rack well. Grill on med low heat bone side down until reached desired finish. Serve with grilled baby potatoes (I like the color mixes best)
*You can use the coffee rub on almost any meat - especially tasty with baby back ribs!

Grilled "chile relleno": Create same coffee rub as above and mix with soft goat cheese. Stuff hollowed poblano peppers (use sweet green peppers if you don't want the heat). Serve with a homemade béchamel sauce and grilled baby potatoes.