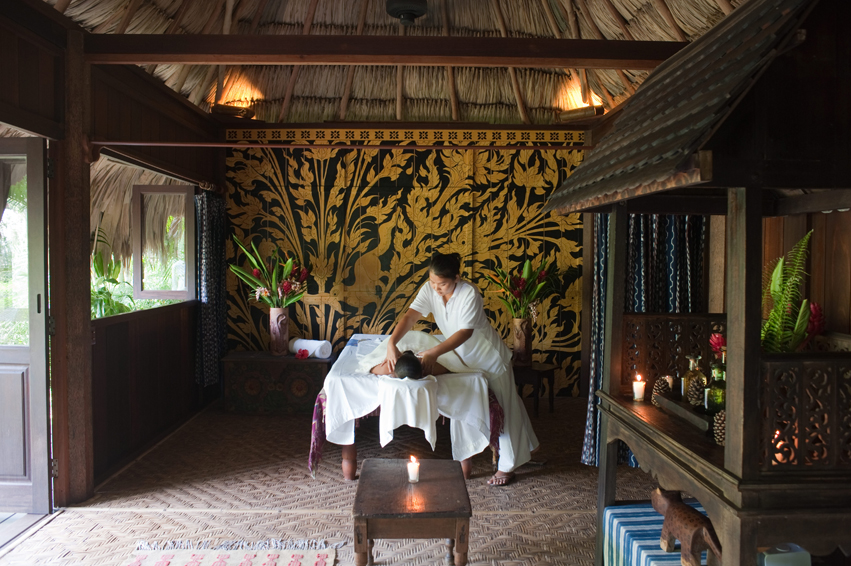 Waterfall Spa
Set on the banks of Privassion Creek, our Waterfall Spa offers a variety of treatments, wraps and massages, as well as access to our rejuvenating hot pool overlooking cascading waterfalls. At the request of Francis Coppola, our Belize spa specializes in the art of Thai massage, and features a professionally trained staff that has studied the ancient techniques at the Sacred Wat Pho Temple in Bangkok. Find out more about our Belize conservation efforts today.
In addition to providing you with the best spa experience possible we are also committed to maintaining strict sustainability guidelines. With a hot pool heated solely by hydro-electricity, spa treatments that use only locally sourced organic ingredients and an open building design utilizing natural light, the Waterfall Spa is eco-luxury at its best.
BODY TREATMENTS

Papaya Body Polish (30 minutes)
The naturally occurring fruit acid within the papaya gently removes the dead skin cells from the body leaving it feeling refreshed. The body is covered in the warm fruit, while enveloped with fluffy towels which allow the body heat to encourage the exfoliating benefit of the treatment. US$65 (BZ$130)
Oriental Prelude Treatment (30 minutes)
A special combination of bananas and a blend of honey sprinkled with salt crystals are directly applied onto the wrap and the body. The warm mixture encourages the body's absorption of the fruit acid and the exfoliation process begins on the entire body, while the honey and banana extract nourishes. Slat crystals help in the removal of dead skin cells, leaving your body extra soft and cleansed. US$65 (BZ$130)
Oriental Body Glow (30 minutes)
A unique body scrub. A combination of herbs combined with honey is scrubbed over your entire damp body, exfoliating dead skin cells, increasing circulation making you glow, while the honey nourishes, to leave you feeling extra smooth. Also ideal before a relaxing massage. US$65 (BZ$130)
Oriental Salt Glow (30 minutes)
A body scrub treatment. Salt crystals calm the body, relax muscles and ease aches and pains. Leaves skin smooth with a natural healthy glow. Your entire body receives a rejuvenating sense of well being. Ideal after a day hiking the trails or climbing Mayan ruins. US$65 (BZ$130)
Oriental Herbal Pack (90 minutes)
An ancient Thai healing treatment using herbal packs. This treatment begins with a gentle body scrub on damp skin to remove dead skin cells. The body is then compressed with a warm special herbal pack on the areas that need healing. A special massage of healing techniques eases muscle tension and pains. US$126 (BZ$252)
Stress Recovery Wrap, Scrub and Massage (90 minutes)
A mix of herbal tea and honey is applied over the body which is then wrapped in a thermal blanket, followed by a scrub. Good for detoxifying and exfoliating dead skin cells. Your skin will be extra soft and cleansed. The tea and honey nutrients are absorbed into the skin to re-energize it. Followed by an essential oil massage which will make you feel totally relaxed. US$140 (BZ$280)
MASSAGES

The Oriental Massage
A traditional Thai massage. Wearing Siamese style pajamas, the entire body from scalp to toes benefits from the pressure point massage and stretching movements.
60 minutes – US$108 (BZ$216) 90 minutes – US$140 (BZ$280)
Essential Oil Massage
Blends of essential oils extracted from plants release their soothing properties info the skin during this face, scalp and body massage. Eases muscle tension and releases energy with acupressure movements. Perfect for easing stress.
60 minutes - US$108 (BZ$216) 90 minutes – US$140 (BZ$280)
Oriental Foot Massage (30 minutes)
All the energy meridians of the body are identified in the pressure points of the foot. Massaging the feet provides relaxation, soothes pain and releases blocked energy. The ideal treatment after sightseeing. US$56 (BZ$112)
Back and Shoulder Massage (30 minutes)
A massage to treat the upper part of the body with aromatic oil and pressure point technique. US$56 (BZ$112)
FACIAL
The richness of minerals and amino acid in the mud are detoxifying and anti-bacterial effect increase oxygen absorption for a refining and smoothing effect. Being purified, your skin regains the natural softness and radiance.
30 minutes US$47 (BZ$94) 60 Minutes US$80 (BZ$160)

Rates subject to change. All listed rates do not include General Sales Tax and Service Charge.