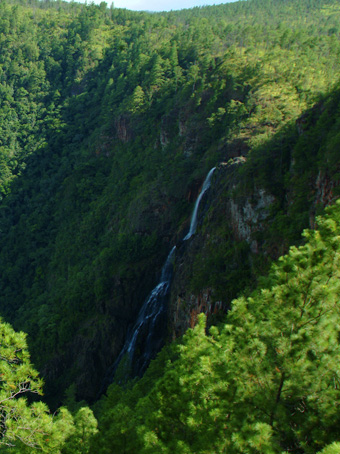 Mountain Pine Ridge Reserve
Blancaneaux Lodge is situated in the Mountain Pine Ridge Forest Reserve, the oldest of Belize's national parks. Take in the most scenic sites nearby the Lodge, as well as some of the least visited (but equally impressive), in this unique and eye-opening tour.
Our first stop is the viewpoint to Hidden Valley Falls (or 1000-ft Falls), which thunder over a granite ledge into the mists below. Traveling higher and deeper into the reserve we travel to Baldy Beacon – one of the highest accessible areas in Belize for a panoramic view of the reserve. We then visit the Rio Frio Cave, an ancient Maya burial site with an enormous arched entranceway. The Rio Frio (Cold River) flows in one end of this cave and out the other, helping to create smooth limestone walls and sharp stalactites. Also included in the full day tour is a stop at the Rio On Pools and Falls – a beautiful picnic spot and perfect for a cool dip in the natural pools
Departs
9.00 am
2013 Prices - valid from December 20, 2012 through December 19, 2013
1-2 people - US$210 (BZ$420)
3 or more - US$89 (BZ$178) per person
Add US$108 (BZ$216) for an exclusive private tour
Prices does not include General Sales Tax, lunch or park entrance fees.