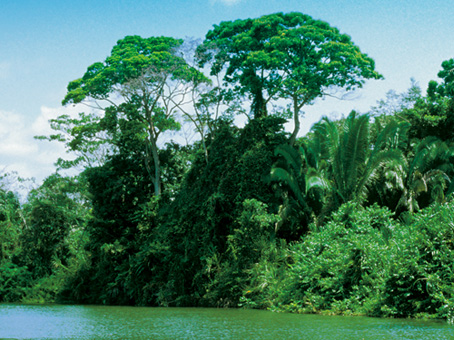 Conservation
Francis and Eleanor Coppola see their role as that of a conservator, preserving the pristine environment. They strongly support Belize's commitment to ecotourism and continue to explore new technologies and practices that benefit the environment.
Download PDF summary of our Sustainability & Conservation Initiatives
Design and Construction of Facilities
At our luxury Belize resorts, we have created buildings that blend into the natural environment. We use low profile, environmentally sound designs, thatch, hardwoods, pine and bamboo, along with regionally produced tiles.
We use local and regional plants for landscaping that do not rely on intensive irrigation.
Energy/ Water Efficiency
The design of our rooms allows us not to use air conditioning at our Belize properties. Windows, screened doors, ceiling fans and high, thatched ceilings allow sufficient air circulation to enable hot air to escape.
We use mulching to reduce transpiration from flowerbeds, landscaped areas and organic garden.
Flow control showerheads are used in the bathrooms at all properties. All swimming and plunge pools are sanitized with non-chlorine based treatments.
Sponsor/Partnerships
Francis Coppola Resorts and our properties support several organizations and individuals in a continuing effort to preserve the biodiversity of Belize and Guatemala. Please click the links below to learn more about each of our partners.
Blancaneaux Lodge
Friends for Conservation and Developement - http://www.fcdbelize.org
Belize Raptor Research Institute - http://www.belizeraptorresearch.org
Jaguar Research Project - http://www.mjkelly.info
Turtle Inn
SEA Belize – http://www.seabelize.org/
Alexandra Cousteau and Expedition Blue Planet – http://bluelegacy.net
Purchasing Policy
Laundry - We use only biodegradable detergents and use automated washing machines that precisely measure the amount of detergents needed per load.
Toiletries - We use locally produced organic soaps and purchase hair care products in bulk from organic producer 'Forest Essentials' and transfer the shampoo and conditioner into individual ceramic and wood containers for guest use.
Bed linens - We use only 100% cotton sheets.
Reservations Office – We use LED light bulbs whenever possible and purchase only recycled paper for printing purposes.
SUSTAINABILITY
Rainforest Alliance Verified™
Blancaneaux Lodge and Turtle Inn have had their sustainable tourism practices and operations Verified as best management practices by Rainforest Alliance.

Organic Garden
The produce at our resorts is truly local. Our gardening staff grows all the organic vegetables and many of the fruits used at both Blancaneaux Lodge and Turtle Inn. "We want to offer our guests the best there is, and by growing it ourselves we can guarantee the quality," says Francis. "Besides, what's a good brick oven pizza without fresh basil?"
The gardener and chef consult daily on what the restaurant's specials, what is available and what will soon be ready to make an appearance on the menu. The year-round growing season and careful crop rotation means there are always fresh tomatoes for salads, sandwiches, pizzas and pastas.
RESPONSIBILTY
We currently provide full academic scholarships to five local students. Three are currently attending Sacred Heart College in the Cayo District town of San Ignacio, one is attending Mopan Tech in Benque Viejo, and one is attending St. Ignatius High School in Santa Elena. Scholarships include all tuition fees, and books. All students, once accepted, must provide progress reports throughout the four-year scholarship.

We contribute $1000 BZ monthly to the Cornerstone Foundation (http://www.cornerstonefoundationbelize.org/), a non-profit organization that provides assistance to the poor and needy, as well as promoting positive workshops geared towards children.

We also contribute $1000 BZ monthly to the health clinic in Placencia to help assist in the cost of medicines and medical equipment.

Additionally, we provide contributions throughout the year for the advancement of local sports in Placencia, as well in San Ignacio.