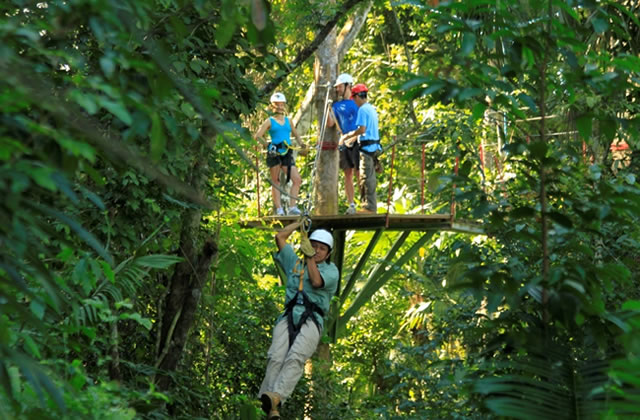 Zip Lining
If you're looking for adventure in Belize, Bocawina Adventures boasts the longest zip line in Belize and is the hotspot for waterfall rappelling. We offer day or night zip-lining with 12 platforms and one of the longest zip line runs is 2,300 feet long!
Located in Belize amidst the 7,000 acres of pristine lowland broadleaf forest in the saw-toothed Maya Mountains in the Mayflower Bocawina National Forest, the park is outside of Silk Grass Village located on the Southern Highway and takes about 1 hour and 15 minutes to reach from Turtle Inn. We also highly recommend this as a stop over when coming from or going to Blancaneaux Lodge. Explore zip lining at Turtle Inn today!
2014 Prices - valid through December 19, 2014
US$130 (BZ$260) per person (minimum 2 persons)
US$105 (BZ$210) per person for 4 or more

Does not include General Sales Tax and lunch.